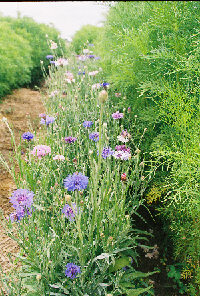 Quann Community Garden was created in 2002 by
Community Action Coalition
 (CAC) Garden Program and many neighbors. We started out with about 50 plots, and expanded in each of the next three years. We now have a total of 
140 plots. We can expand no more; we've been growing to the north, but can't go any further. 
Every 
year we fill to capacity, yet somehow usually manage to squeeze everyone in.
As a result of this clear demand for community garden space, we are working with nearby neighborhoods and the 
City of Madison 
to create more community garden space on the south side.
Other south side gardens: Badger (633 W. Badger Road), Baird (2200 Baird), and Waunona (5000 Raywood Road). These gardens generally fill to capacity, too.
Learn more about other gardens in Madison on the Dane County Community Gardens page.

Join our new Facebook group!